Cruise schedule of the ship "Kapetan Fotis"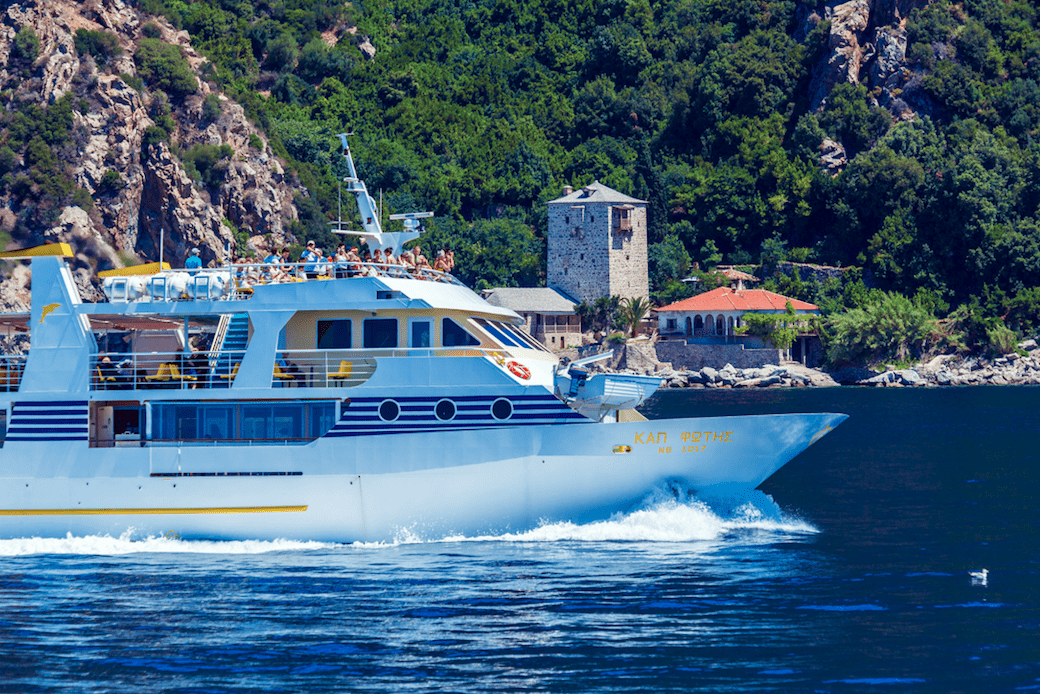 The 300 seats' ship departs once up to twice a day from Ouranoupolis port, right next to the "gates" of Holy Mount Athos, according to demand. Departure times are 10:30 and 13:45 (second cruise on the same day) and the cruise lasts ca. 3 hours
The ship heads to the southwestern part of the peninsula and in ca. 10 minutes, it reaches the sea-borders of the monastic state and its territory.
From there, it arrives in ca. 15 minutes in the area of the first Russian cloister and after sailing by unique beaches, it arrives in the area of the first monastery, Iera Moni Dochiariou, in ca. 40 minutes. Another 7 monasteries follow then, as well as the Holy Mount's central port, Daphni, and finally the cloisters, small villages, where groups of monks live in every house. The duration of the tour-guiding's last part is ca. 40 minutes.
The ship returns sailing again by the last 4 monasteries and, having one and half hour spare time up to Ouranoupolis port, you can do your shopping on board, discuss your impressions or take photos of yourselves on the ship's bridge with the Captain.
On-board amenities
A. Restaurant: Cold dishes, ouzo, beer, pizza
B. Cafe: Any type of coffee, chocolate, spirits
C. Folk art: Holy icons (wax or paper), knit bracelets, incenses and may more souvenirs.
D. Video-tapes about the Holy Mount, books in many languages, maps etc.
E. Pilgrimage: After agreement, the ship halts in ca. 500 meters, according to the law, from the coast. "Fathers" (monks) approach, bringing holy remnants and people piously worship them. It's a unique moment since women are not permitted in the region ("state") to worship.
F. Tour-guiding in three languages: Greek, English and German. Circumstantially, it can be done in other languages, like Romanian a.o. The tour-guiding in Greek is done by the Captain, who has specific knowledge about the monks' life.
G. A photo of yours on-board with your own camera or with ours, with or without the Captain on the bridge by the steer.
H. A documentary about the monks' life on three TVs in the lounge, and video games for the kids.